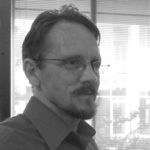 Mr. James Ottaway is a professional architect licensed in the state of Florida and has been designing and managing the project development for commercial, residential, and industrial projects with Spacecoast Architects,PA since 2007.
James' years of experience and in-depth knowledge are brought to bear to address the specific challenges of each project he manages. He directly oversees project development, from initial design development through construction documentation and delivery, and during construction administration and submittal review processes.
James' depth of experience and communication skills enable detailed BIM (building information modeling) platform design and delivery throughout the projects allowing the advantages of whole-building integration and energy consumption analysis.
Mr. Ottaway volunteers with the local elementary school, helping with the STEM and robotics teams; volunteers and teaches the local Cub and Boy Scouts; and, is an invited presenter at bookseller community outreach programs.