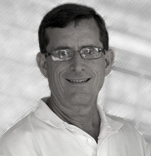 Lawrence Maxwell, AIA, President and principal architect of Spacecoast Architects, P.A. is the former Director of the State of Florida's Building Design Assistance Center at the Florida Solar Energy Center, and is a nationally recognized expert in the area of hot-humid climate design.  Mr. Maxwell's experience and expertise have earned him invitations to provide educational and informational presentations across the country and the Caribbean. He has – and continues to provide expert advice and consultation on issues of environmental design and energy efficiency to private and governmental agencies, including the State of Florida's Department of Management Services, the Florida Department of Education, and numerous local governments, cities, and school boards.
Mr. Maxwell has been actively involved in the American Institute of Architects (AIA) and the Florida Association of the AIA (FLAIA).  He has served over 10 years as a FLAIA State Director, and two terms as a State Association Vice President, and as Secretary-Treasurer of the Association.  He has received recognition for his service with the AIA Florida President's Award and the AIA Florida Anthony Pullara Individual Honor Award.  He has also received numerous design awards for his work.
Awards
2010 – The Florida Association of the American Institute of Architects
The Anthony Pullara Individual Honor AwardFor Outstanding Service to AIA Florida which is over and above that normally required of a member of the AIA.
2009 – The American Institute of Architects – Housing & Custom Residential Knowledge Community
2009 AIA National Green Housing Award1950's Mid-Century Modernist Icon Re-Greened (Paul Rudolph Designed House Renovation)
2008 – 10th Annual Sustainable Florida Best Practice Awards – Awarded by Florida Governor Crist & The Century Commission for a Sustainable Florida
Sustainable Green Building Best Practice Award
2007 – The Florida Association of the American Institute of Architects
Presidential AwardFor dedication to AIA Florida through adverse conditions.
2005 US EPA Energy Star for High Performance Buildings – Awarded for highest score for an educational facility design (Odyssey Charter School) received to that time in the US.
2004 – The Spacecoast Chapter of the American Institute of Architects
Merit Award for DesignFor the design of 50,000sf Odyssey Charter School
1982 – The Association of Collegiate Schools of Architecture
Design + Energy 1982 National Student Design Competition Second Place Design AwardJuried by Sarah P Harkness, FAIA; Douglas Kelbough, AIA; Paul A Kennon, FAIA; Edward Mazria, AIA; Robert A M Stern, AIA.